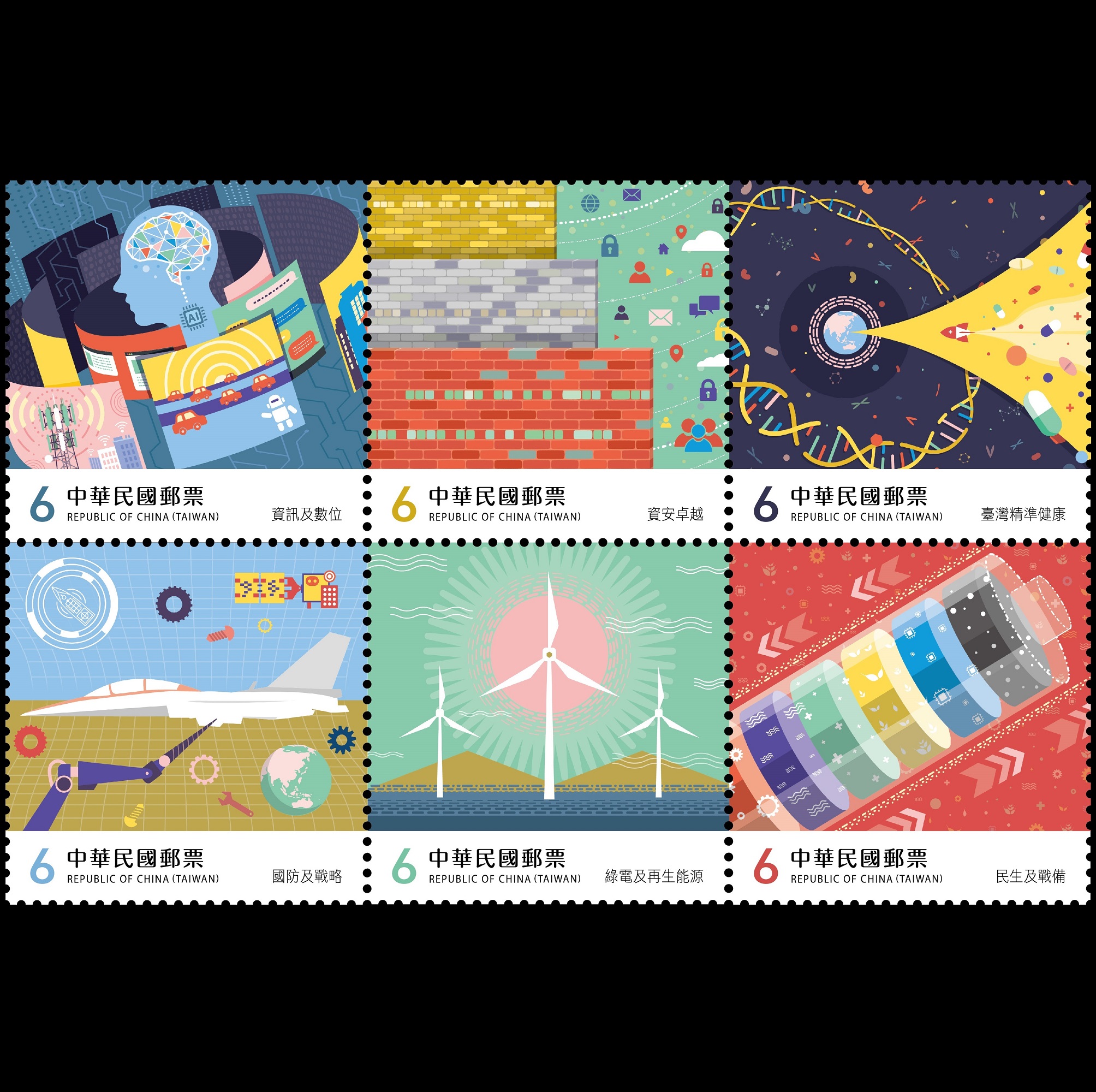 First day of issue: August 27, 2021
Sheet composition: 24 ( 6 × 4 )
Paper used: Phosphorescent stamp paper
Designer: Delta Design Corporation
Printer: Cardon Enterprise Co., Ltd.
Stamp size: 32 × 32 (mm)
Color: Colorful
Process: Offset
Perforation: 12½
To make the outstanding development and future prospects of Taiwan's industries better known, Chunghwa Post has issued a special set of six stamps in a se-tenant block, valued at NT$6 each, on the six core industries: Information and Digital Technology, Cybersecurity, Medical Technology and Precision Health, National Defense and Strategic Industries, Green and Renewable Energy, and Strategic Stockpile Industries. Descriptions of their design follow:
1.
Information and Digital Technology: Research to develop semiconductor technology for the new century and enable use of AI, along with entrance into the international 5G supply chain. The stamp shows AI chips and a 5G base station.
2.
Cybersecurity: Research to develop 5G communications, semiconductor and other firewall technologies, and ensure the security of cyber medical treatments. Firewalls figure on the stamp.
3.
Medical Technology and Precision Health: Setting up a genetic and health insurance laboratory database, and using ICT (information and communications technology) to develop precision prevention and diagnosis systems, and epidemic prevention products (such as seeing how AI influences the determination of Covid-19 pneumonia). The stamp depicts a gene.
4.
National Defense and Strategic Industries: Promotion of self-reliance in national air and sea defense, such as the indigenous advanced jet trainer, local maintenance of F-16 planes and developing space industries such as low earth orbit satellites and ground-based equipment. The advanced jet trainer and satellite are illustrated.
5.
Green and Renewable Energy: Development of offshore wind power and solar energy generators, and related research bases permitting Taiwan wind power industries to enter the international market. The stamp design focuses on wind turbines and solar power.
6.
Strategic Stockpile Industries: Seeking stability in the five principal areas of energy independence, basic foodstuffs, daily necessities, medical provisions, and disaster response materials including sand and cement, so as to ensure no lack of the related materials and ensure a hold on raw materials for semiconductors and equipment, batteries powering electric vehicles, active pharmaceutical ingredients and similar related industries. All of which is depicted by an electric battery.
For philately lovers, a folio is released along with the stamps, which features one sheetlet (comprising four sets of postage stamps). To purchase this limited edition stamp folio, please order on line at https://stamp.post.gov.tw.
By-issues:
(1) First Day Cover (195 mm × 120 mm): NT$3 apiece
(2) Folder (with or without mount): NT$8 apiece
(3) Loose-leaf album page: NT$8 apiece
(4) Pre-cancelled FDC affixed with a full set of stamps: NT$39 apiece
(5) Stamp folio: NT$380 a copy
To purchase the relative philatelic products, please go directly to the post office branches, Postal Museum or order on line at https://stamp.post.gov.tw.