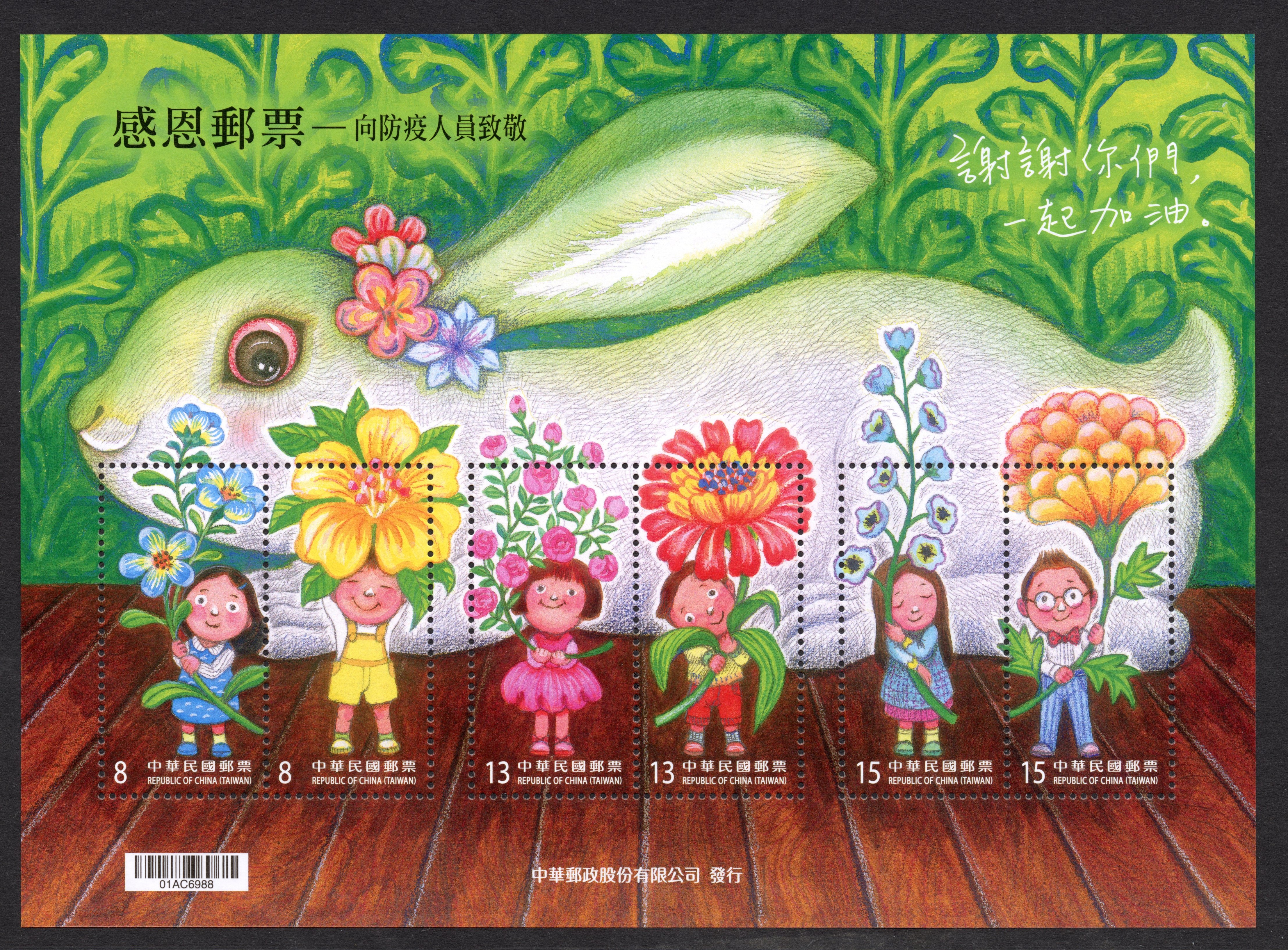 First day of issue: August 11, 2021
Paper used: Phosphorescent stamp paper
Drawer: Jimmy Liao
Printer: China Color Printing Co., Ltd.
Size of souvenir sheet: 180 × 130 (mm)
Stamp size: 24 × 48 (mm)
Color: Colorful
Process: Offset
Perforation: 12 1/2

At a time when the whole world has been facing the ravages of Covid-19, we are fortunate to have persons who work selflessly to protect Taiwan. In thanksgiving for these heroes fighting against this epidemic, Chunghwa Post has offered a special souvenir sheet containing six stamps on the theme of thanksgiving. The stamps are grouped in three pairs valued at NT$8 each for the first pair, NT$13 for the second and NT$15 for the third.

The souvenir sheet is drawn with colorful strokes exuding a warm and positive force. The key picture is of a furry bunny. Rabbits are also called Spring Bunnies because they stand for the limitless potential of new life. Each of the six stamps has a charming child presenting pretty flowers as a token of gratitude to the persons fighting the epidemic and a symbol of a bright future ahead.

A folio is released along with stamps, containing the souvenir sheet. The folio combines the beauty and simplicity of design. It's certainly worth collecting.

By-issues:
(1) First Day Cover (230 mm × 158 mm): NT$3 apiece
(2) Folder (with or without mount): NT$8 apiece
(3) Loose-leaf album page: NT$20 apiece
(4) Postal cards: NT$40 a set
(5) Pre-cancelled FDC affixed with one souvenir sheet: NT$75 apiece
(6) Stamp folio: NT$220 a copy

To purchase the relative philatelic products, please go directly to the post office branches, Postal Museum or order on line at https://stamp.post.gov.tw.