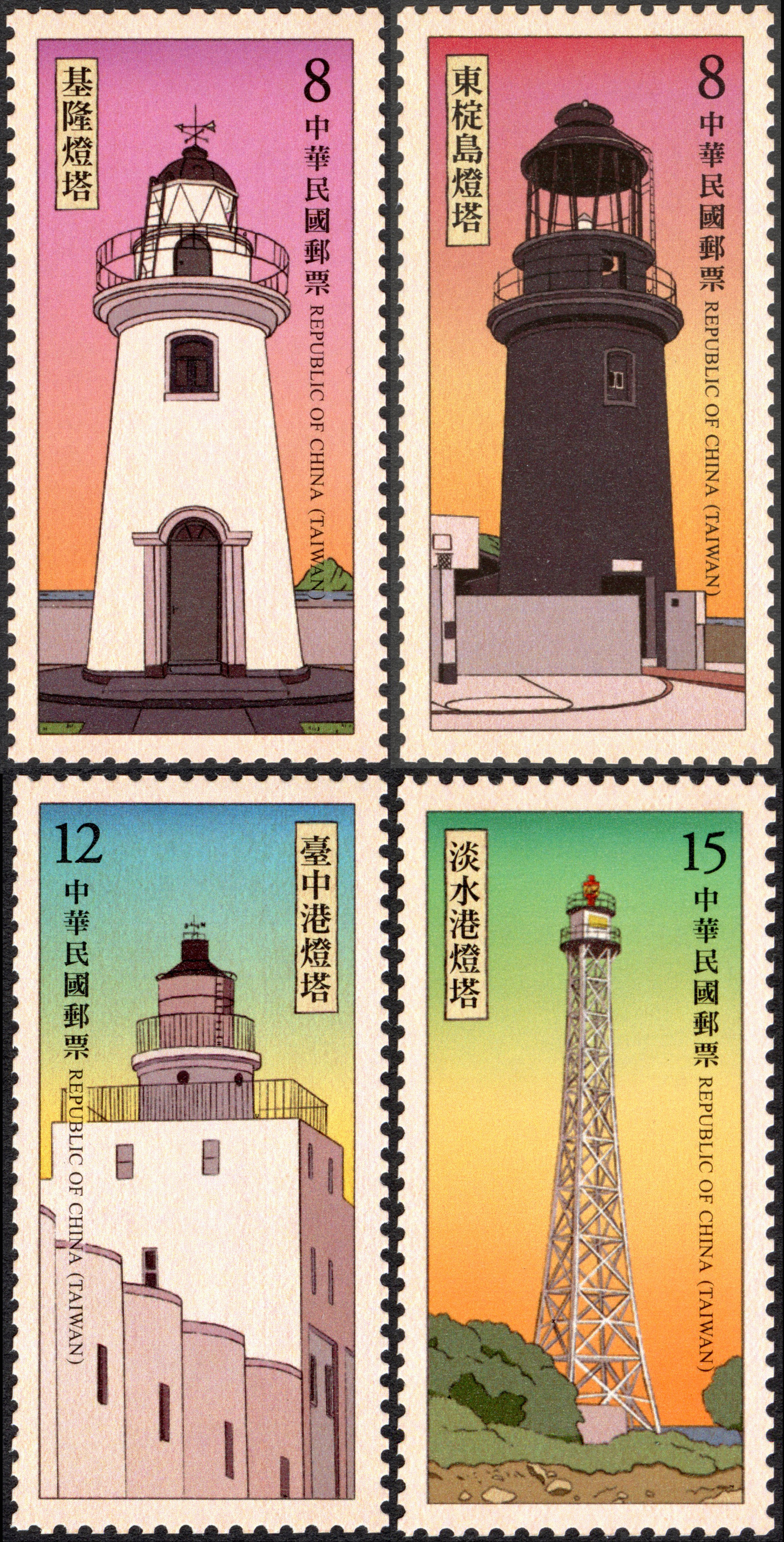 Used to guide ships, lighthouses are important maritime transportation infrastructure, and they make an important contribution to maritime safety. Having previously released Lighthouses postage stamps in 2014 and 2018, Chunghwa Post is following up with a 2019 issue. The set of four stamps will feature lighthouses of Keelung, Tungting Tao, Taichung Port, and Tamsui Port. Descriptions of their designs follow:
1.
Keelung Lighthouse (NT$8): Located at the Wanren Duibi Pier on the west bank of Keelung Port, this round brick lighthouse was built in 1899 and is painted white. Originally equipped with a kerosene lamp, it now has an AC-powered lamp.
2. Tungting Tao Lighthouse (NT$8): Located in Kinmen County, atop a hill on Tungting Tao, the lighthouse was built in 1871. It has a round brick tower painted black. A landmark of Tungting Tao, it forms a pair of navigational beacons with the lighthouse on Peiting Tao. The two are known as "The Two Horns of Kinmen."
3. Taichung Port Lighthouse (NT$12): Located on the roof of the Far Eastern Warehousing Corp. on Pier 1 of Taichung Port, the lighthouse was built in 1982. This white reinforced-concrete tower is the only lighthouse in Taiwan built atop a manmade structure. It is also the Taiwanese lighthouse with the tallest tower.
4. Tamsui Port Lighthouse (NT$15): Located on the northern bank of the Tamsui River mouth at Shalun, the lighthouse was built in 1796. In 1969, to facilitate the comings and goings of large ships, the lighthouse was rebuilt with a white square tapered iron tower.
The further information about this issue is as follows:
1.
First day of issue: November 20, 2019
2.
Sheet composition: 18 (6 × 3)
3.
Paper used: Phosphorescent stamp paper
4.
Designer: Up Creative Design and Advertising Corporation
5.
Printer: Central Engraving and Printing Plant
6.
Stamp size: 24 × 48 (mm)
7.
Color: Colorful
8.
Process: Offset
9.
Perforation: 12½
By-issues:
(1) First Day Cover in large size (195 mm × 120 mm): NT$3 apiece
(2) Folder (with or without mount): NT$8 apiece
(3) Loose-leaf album page: NT$8 apiece
(4) Maximum cards: NT$40 a set
(5) Pre-cancelled FDC affixed with one NT$8-denominated stamp:
NT$11 apiece
(6) Pre-cancelled FDC affixed with a complete set of stamps:
NT$46 apiece
To purchase the relative philatelic products, please go directly to the post office branches, Postal Museum or order on line at https://stamp.post.gov.tw.