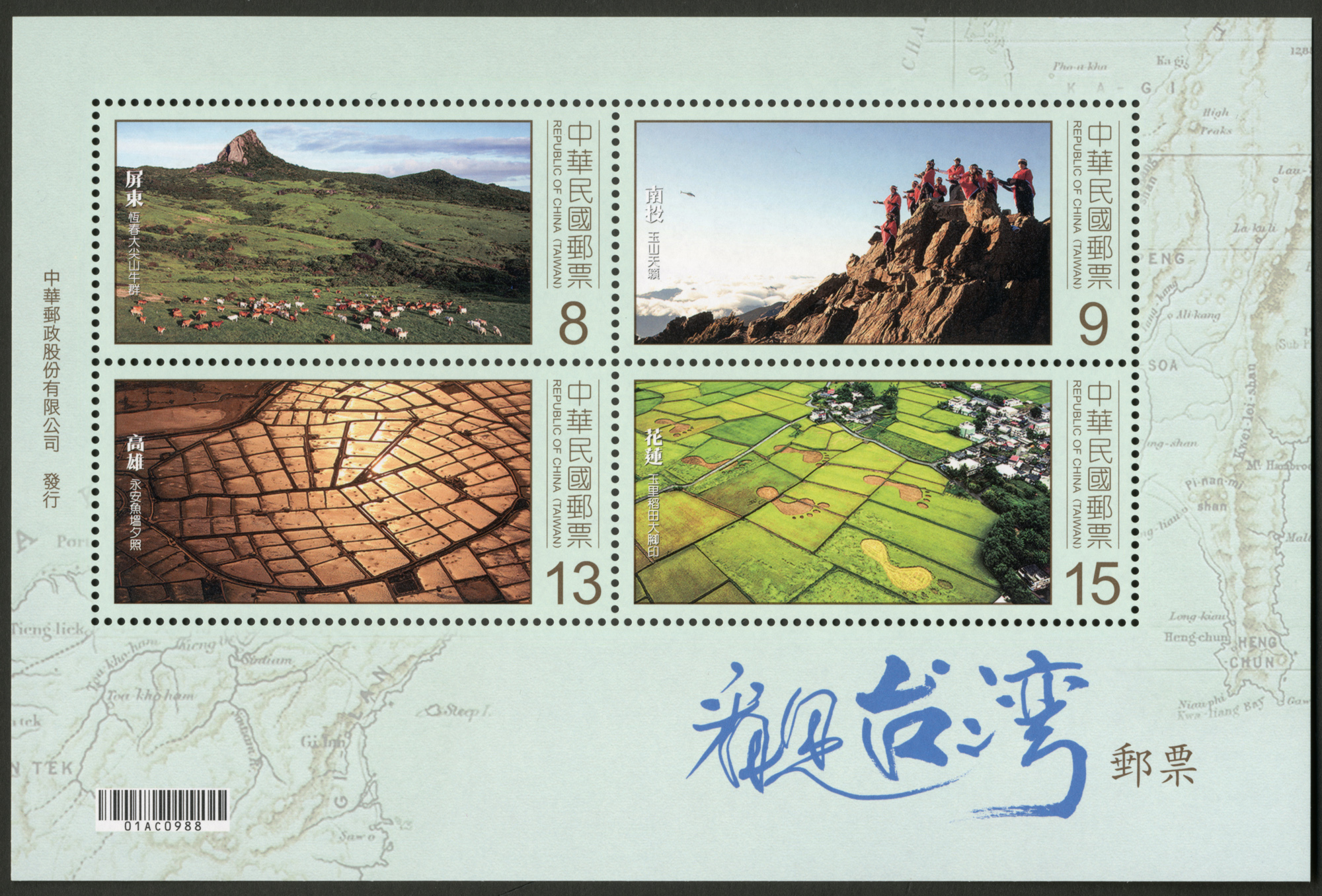 Lapped by the surrounding sea, the mountains of the island of Taiwan produce their own unique natural landscape, a home for abundant cultural resources. To introduce the world to the beauty of Taiwan, Chunghwa Post has chosen photos shot from the air by Chi Po-lin for a souvenir sheet. Through these aerial photos displaying the beauty of Taiwan's scenery and culture, we hope to encourage our citizens to cherish their natural environment and care for it.
The photos of this stamp set express the love and concern for Taiwan. Copyright belongs to Above Taiwan Cinema, Inc. In accordance with Mr. Chi's wishes, the names given to each photo are the original ones given by Mr. Chi himself.
The souvenir sheet contains four stamps which are named Cattle on Mount Dajian, Hengchun, Pingtung County (NT$ 8), A Choir on Mount Jade, Nantou County (NT$ 9), The Setting Sun over Fish-farms, Yongan, Kaohsiung City (NT$ 13), and Giant Footprints in Paddy Fields at Yuli, Hualien County (NT$ 15). A bird's eye view of Taiwan places the beauty of nature's broad expanses before our eyes; the aboriginal children's choir singing on the peak of Mount Jade calls on our citizens to cherish this land and let the world see the beauty of Taiwan.
The souvenir sheet was designed by Arteck Creative Consultants, Inc. and printed in color offset by La Poste (France). By-issues including a first-day cover, folders with and without crystal mounts, and a loose-leaf album page will be released along with the souvenir sheet and will go on sale on June 6, 2018. A pre-canceled FDC with the souvenir sheet will go on sale on June 8, 2018, the stamps'date of issuance. To purchase the relative philatelic products, please go directly to the post office branches, Postal Museum or order on line at https://stamp.post.gov.tw.