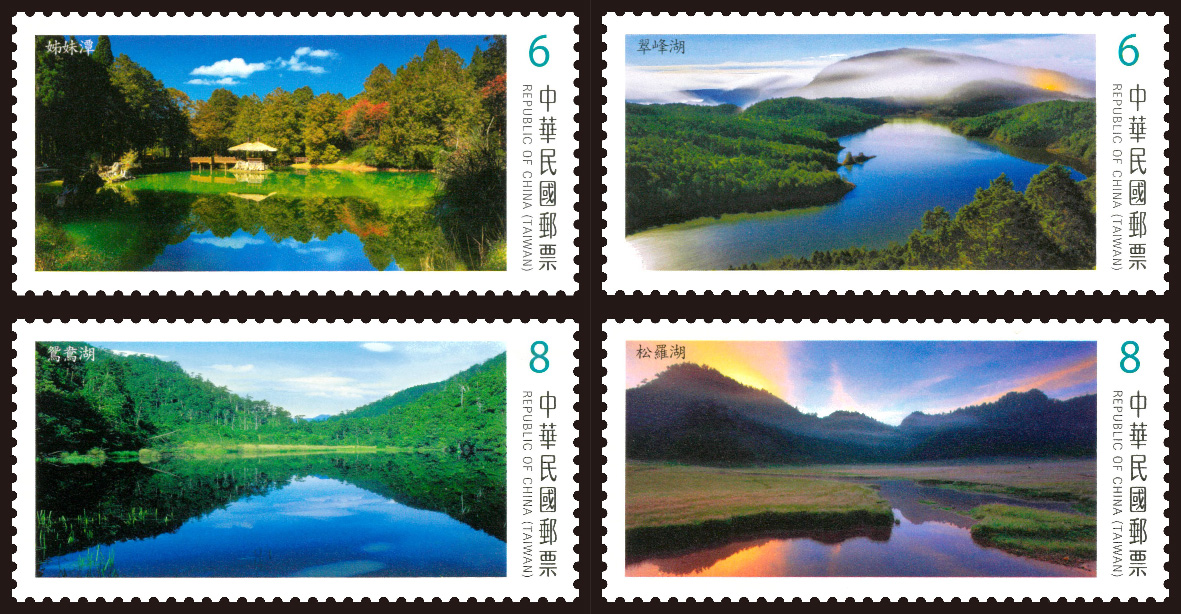 Following earlier releases in 2014 and 2017, Chunghwa Post is issuing Alpine Lakes of Taiwan Postage Stamps (III). This issue will focus on four lakes that sit at elevations between 2,100 and 1,200 meters: Jiemei (Sister) Lakes, Cueifong Lake, Yuanyang Lake, and Songluo Lake. The set of four stamps will be released on March 21, 2018. The designs follow:
1.Jiemei (Sister) Lakes (NT$6): Located in Chiayi County, the lakes comprise two different sized natural ponds and sit at an elevation of about 2,100 meters. The lakes are a famous scenic site in the Alishan National Forest Recreation Area, where lake and mountain scenery can be enjoyed from trails around the lakes. On the right side of the lakes is a grove of red cypresses, which constitutes the densest stand of cypresses in the area.
2. Cueifong Lake (NT$6): Situated in Yilan County in the Taipingshan National Forest Recreation Area, the lake lies at an elevation of about 1,840 meters. In the shape of a gourd, it is the largest alpine lake in Taiwan. The lake is home to mandarin duck, a precious bird species. Duck activity is common on the north side of the lake. The area has been designated as protected area for mandarin ducks.
3. Yuanyang Lake (NT$8): Seated in Hsinchu County in the Yuanyang Lake Nature Reserve, the lake stands at an elevation of about 1,670 meters. The lake area is wet all year round, with bryophytes densely covering the ground and trees. Cypresses are the dominant species in the area's precious virgin forests, which are quite pristine and extensive.
4. Songluo Lake (NT$8): The lake is situated in New Taipei City. It lies at an elevation of about 1,230 meters within the Qilan Major Wildlife Habitat area. The forests that surround the lake teem with flora and fauna. The area, which is an important wintering spot for migratory birds, still retains much of its original, unspoiled natural scenery.
This set of stamps is planned by Dr. Chih-Yu Chiu, Research Fellow of the Biodiversity Research Center at Academia Sinica and Dr. Lih-Der Ho, Associate Professor of the Department of Geography at National Kaohsiung Normal University, designed by Delta Design Corporation and printed by Cartor Security Printing (France) in color offset.
By-issues including a first-day cover, folders with and without crystal mounts and a loose-leaf album page will go on sale on March 19, 2018. A pre-cancelled FDC with a NT$6-denominated stamp or the full set of stamps will go on sale on March 21, 2018, the stamps'date of issuance.