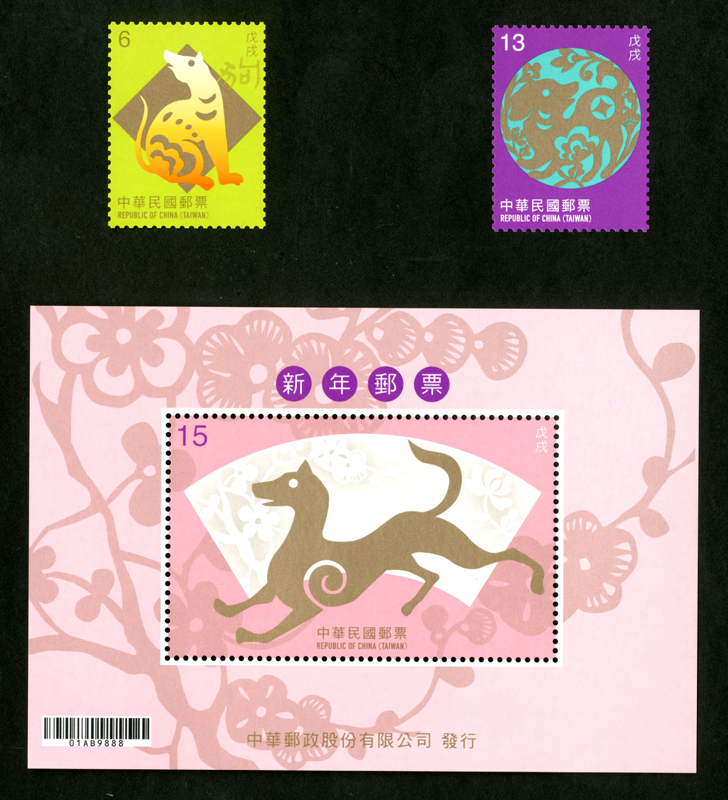 The Year of the Dog, 2018, approaches. To welcome its arrival, Chunghwa Post has scheduled the release of the "New Year's Greeting Postage Stamps (Issue of 2017)," which includes a set of two stamps and a souvenir sheet, for December 1, 2017.
The stamp designs feature paper cuttings in gold, green, and purple that capture dogs in different stances. The souvenir sheet, meanwhile, features a background of pale pink, against which are set images of flowering plum blossoms. To accommodate changing postal rates, the lower denominated stamp has been raised from NT$3.5 in previous year's issues to NT$6, and the souvenir sheet has been raised from NT$12 to NT$15. The designs follow:
1. NT$6 stamp: The stamp's design concept was the following: "When the golden dog welcomes spring, good fortune and prosperity follow." It thus conveys the idea of the Year of the Dog bringing good fortune as one year replaces another.
2. NT$13 stamp: It features a golden dog and peonies, expressing the wish for the new year that "prosperity will come with spring as the dog brings wealth."
3. NT$15 souvenir sheet: It features a paper-cutting design with a powerful golden dog holding an animated pose suggesting motion amid fan-shaped plum blossoms, conveying the idea of "plum trees blossoming in a wonderful spring, as barks welcome the arrival of the Year of the Dog." The design is meant to express wishes for a year of good fortune and prosperity and of hopes being realized.
To add philatelic interest, on the same day as the stamp set release there will be a set of "uncut press sheets of New Year's Greeting Postage Stamps (Issue of 2017)" release of philatelic products, which will come in a special tube. The release will feature uncut sheets of 20 NT$6 and NT$13 stamps (two sheets each), one press sheet of souvenir sheets (comprising nine sheets), and one certificate of authenticity. The margins will feature marks left over from the printing process, including traffic lights and guide lines. Since 2009 Chunghwa Post has successively released philatelic products of this type, which are particularly rich in philatelic interest. They are highly valued as collectibles.
This set of stamps is designed by Mr. Lin Chun-liang, the winner of the first session of the fifth round of the competition for the design of New Year's Greeting Postage Stamps held by Chunghwa Post. They are being printed by La Poste (France) in color offset. By-issues including first-day covers, folders with and without crystal mounts and a loose-leaf album page will be released along with the stamps and will go on sale on November 29, 2017. A pre-cancelled FDC with one NT$6-denominated stamp, with the full set of stamps or with a souvenir sheet, will go on sale on December 1, 2017, the stamps' date of issuance.