National Taipei University of Business 100th Anniversary Commemorative Issue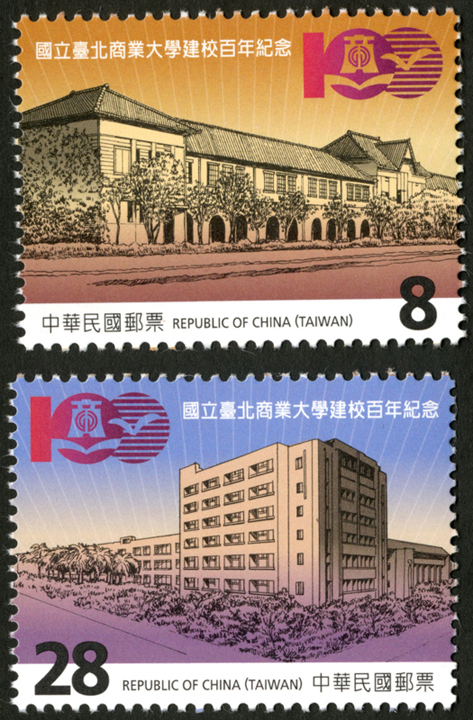 National Taipei University of Business (NTUB) was the country's first Business School. It began in 1917 as "Taiwan Commercial School of the Governor's Office." In 1946 it came under the Taiwan Provincial government as the "Taiwan Provincial Taipei Commercial Vocational School." Three more changes of name followed: in 1968 (Taipei Municipal College of Commerce), 2001 (National Taipei College of Business) and finally in 2014 the current name: National Taipei University of Business. For the past hundred years, NTUB has educated countless talented businesspersons, who have guided Taiwan's business and economy forward. In recent years the focus is on building up research and cooperation between academia and business whilst actively pursuing internationalization and creativity with a goal of becoming a university where business administration and creative applied research go together. To commemorate the university's centennial, Chunghwa Post has commissioned a set of two stamps to be issued on November 16, 2017.
The stamps depict the school buildings of the Japanese era and of the present. The crest of the school and a mythical Peng Bird are placed within the figure "100", symbolizing NTUB's spreading its wings into the future. The glossy background stands for glory, lauding the historic importance of NTUB. The designs of the stamps are as follows:
1. NT$8 stamp: The school's building from the Japanese era is bathed in gold, a sign of NTUB's long and glorious history.
2. NT$28 stamp: The school's current building is set against a purple background, to show NTUB heading towards the new century carrying on its mission of business education for the nation.
This set is designed by Goodstar Design Consultant and printed in color offset by Cardon Enterprise Co., Ltd. By-issues including a first day cover, folders with or without crystal mounts and a loose-leaf album page will be released along with the stamps and will go on sale on November 14, 2017. A pre-canceled FDC with a NT8-denominated stamp or with the full set of the stamps will go on sale on November 16, 2017, the stamps' date of issuance.