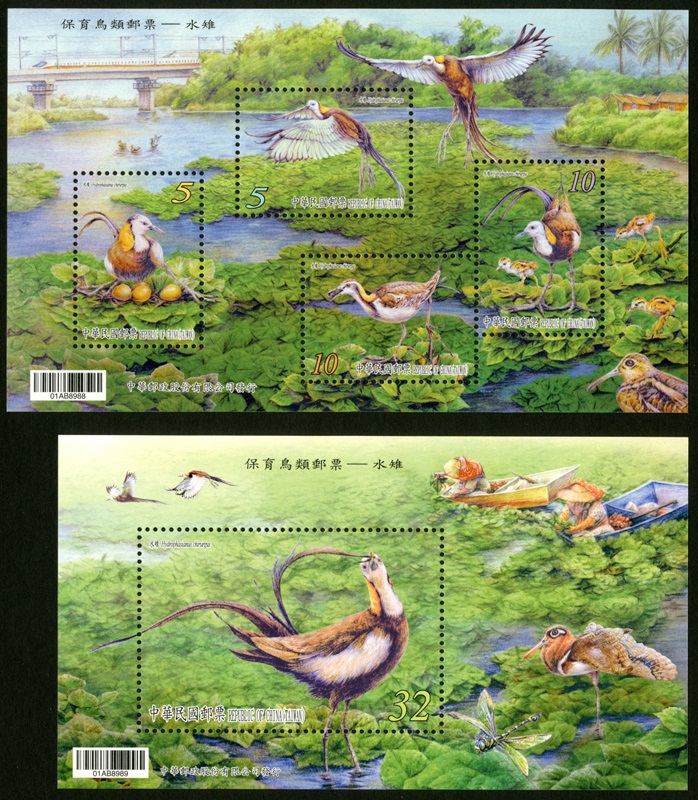 As a call to the people of Taiwan to place greater emphasis on ecological preservation, in 2014 Chunghwa Post released the stamp set "Conservation of Birds—Swinhoe's Pheasant." Now it is following up with another release about birds: two souvenir sheets on the pheasant-tailed jacana to be released on October 11, 2017.
The pheasant-tailed jacana is a member of the jacana family, and in Taiwan it is an endangered bird. It has an elegant nickname — "the fairy that walks on waves"—and is also known as the "leaf walker" and in some locales as the "water-chestnut bird."
The first sheet features four stamps that show different sides of the pheasant-tailed jacana in its habitat of water-chestnut fields in southern Taiwan. The traditional buildings and modern high-speed rail in the background reflect the bird's connection to the lives of people, both modern and traditional. The painted snipe and mallard ducks highlight the ecological diversity within water-chestnut fields and the eco-friendliness of this cultivated environment.
The second sheet features one stamp with a denomination of NT$32 that features a pheasant-tailed jacana leisurely preening itself in a water-chestnut field. In the background, women in boats are picking water chestnuts. On the left side in the distance, there is a pair of pheasant-tailed jacanas in flight, one behind the other. In the right foreground, one finds a painted snipe and a dragon fly (the common flangetail), which bear witness to the rich abundance of life in the ecosystem of a pond.
This set of stamps is planned by Professor Yuan Hsiao-wei of the School of Forestry and Natural Resource Conservation at National Taiwan University, painted by ecology painter Mr. Chi-jen Lai, and printed in color offset by China Color Printing Co., Ltd.
By-issues including a first-day cover, folders with and without crystal mounts, and a loose-leaf album page will be released along with the souvenir sheets and will go on sale on October 5, 2017. Two types of pre-canceled FDCs each with one souvenir sheet and a stamp folio will go on sale on October 11, 2017, the stamps' date of issuance.