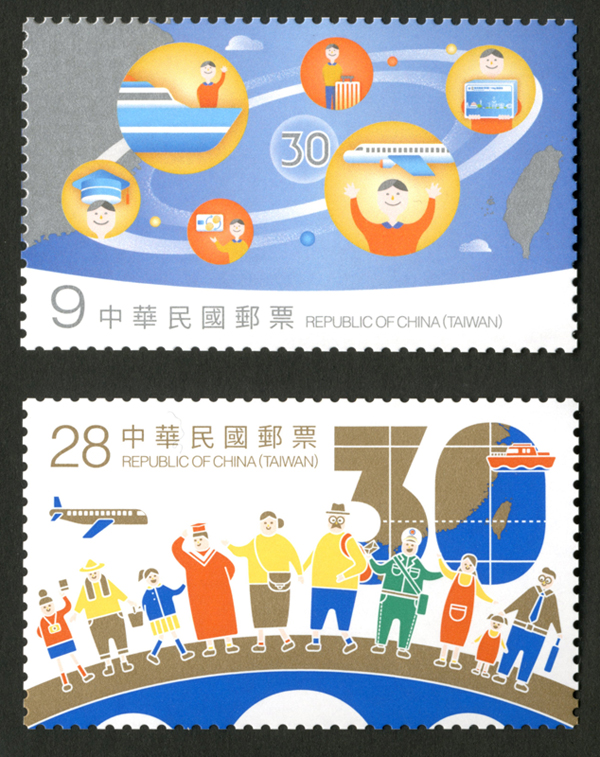 In 1987 our country permitted cross-Strait family reunions. This year marks 30 years of relations across the Taiwan Strait. Over these years there has been an expansion of postal, commercial, tourist and family contacts by air and sea. Likewise, educational, cultural and sporting exchanges have deepened. To commemorate this important historic milestone, Chunghwa Post is issuing a set of 2 stamps on September 20, 2017, as follows:
1. NT$9 stamp: With a white ring linking activities across the Strait, the stamp highlights air and sea links, as well as tourist, postal, academic and financial exchanges. The number "30" is placed in the center between the two sides of the Strait.
2. NT$28 stamp: A symbolic bridge depicts the building of cross-Strait relations. Greater ease for transport by air and sea has enabled people on both sides to come ever closer through tourist, academic, financial and cultural exchanges. The number "30" in the background contains a map of the Strait.
This set of stamps is designed by Up Creative Design and Advertising Corporation and printed by China Color Printing Co., Ltd. in color offset. By-issues including a first-day cover, folders with and without crystal mounts and a loose-leaf album page will be released along with the stamps and will go on sale on September 18, 2017. A pre-cancelled FDC with a NT$9-denominated stamp or with the full set of stamps and a stamp folio will go on sale on September 20, 2017, the stamps' date of issuance.