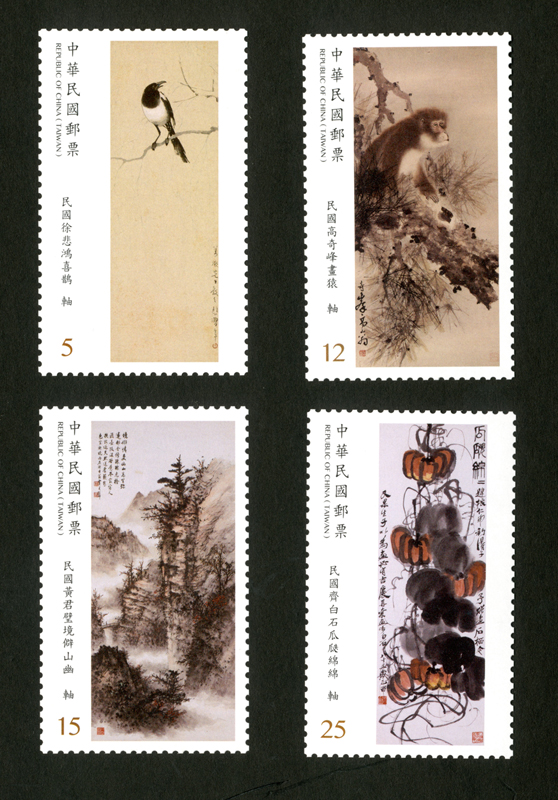 To draw attention to the beauty of modern ink-wash painting in the ROC, Chunghwa Post is releasing a set of four stamps featuring Republican-era ink-wash paintings from the collection of the National Palace Museum. The stamps are scheduled to be released on September 6, 2017. Their designs follow:
1.Xu Beihong's "Magpie" (NT$5): Xu Beihong, a native of Jiangsu, studied painting in France. When he returned to China, he took up ink-wash painting and became a strong advocate of blending Chinese and Western painting techniques. He had a far-reaching and profound influence on painting circles and art education in the early Republican era. The magpie in this painting looks backward in a natural pose. The pliant willow branch, which is rendered with varying concentrations of ink, is juxtaposed with the more sharply contrasted black and white of the magpie. Despite the simplicity of the composition, the shading and simply outlined shapes are perfectly balanced throughout. The nimble and spirited harmony of this work conveys a tremendous sense of vitality.
2. Gao Qi-feng's "Macaque" (NT$12): A native of Guangdong, Gao early on studied painting with his older brother Gao Jian-fu, whose work, along with Ju Chao's and Ju Lian's, influenced the younger Gao's style. While later studying in Japan, Gao drew from the strengths of Chinese and Western painting to create his own unique style. In this work, a macaque portrayed in ink wash and colors is shown seated on the slanting trunk of a pine tree. The subtle shading and depth of color achieves a vivid effect.
3. Huang Chun-pi's "A Secluded Scene of Remote Mountains" (NT$15): Huang (whose original name was Yunzhi, whose alternate name was Yunxuan, and whose sobriquet was Chun-pi) was a native of Guangdong. He excelled at landscapes and would sometimes paint flowers, birds and other animals. He was widely admired for his innovative brushwork that he used to convey rolling clouds and waterfalls. In this painting, the method he employed to render the clouds and mists involved leaving the area of the foothills blank and highlighting them with surrounding washes of light ink, creating a sense of light clouds pervading the serene mountain valley. Bringing to life a bright day deep in autumn, the layers of ink wash throughout the work are rich and varied.
4. Qi Baishi's "Pumpkin Vines of Abundant Growth" (NT$25): Qi Baishi (whose original name was Huang, whose style name was Pingsheng, and whose sobriquet was Baishi) was a native of Hunan. He excelled at painting landscapes and figures, as well as flowers and insects, and he was also a gifted calligrapher and seal carver. This painting mixes techniques, combining outlines filled with colors and "boneless" washes to depict long and entangled vines of hanging pumpkins. The application of ink is exceptionally fluid, much like the gyrations of "wild cursive" script calligraphy.
The stamps are designed by Up Creative Design & Advertising Corporation and printed by Cardon Enterprise Co., Ltd. in color offset. By-issues including a first-day cover, folders with and without crystal mounts, a loose-leaf album page, and a set of 4 maximum cards will be released along with the stamps and will go on sale on September 4, 2017. A pre-canceled FDC with a NT$5-denominated stamp or the full set of stamps, 4 pre-cancelled maximum cards, and a stamp folio will go on sale on September 6, the stamps' date of issuance.