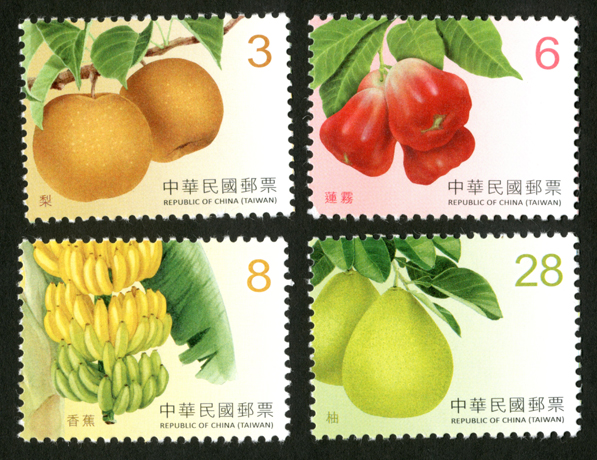 Chunghwa Post has been issuing a continuing series of "Fruits Postage Stamps," with previous releases on January 28 and August 17 of 2016, and on July 20, 2017. Now, for the fourth issue of the series, Chunghwa Post will release a set of four stamps. This set will be released in two batches in response to the company's adjustment of postage on August 1, 2017 together with the changes in the mailing industry environ¬ment. The first batch with 1 stamp featuring pear denominated at NT$3 will be released on August 18, 2017; the second batch with three stamps featuring rose apple denominated at NT$6, banana at NT$8 and pomelo at NT$28 respectively will be released on September 20, 2017. The designs follow:
1. Pear (NT$3): There are many varieties of pear. Take the Hosui Asian pear, with its green-brown skin that turns golden-russet after bagging. Oblong in shape, it has crisp, fine-grained white flesh with high water content, and it is juicy and sweet.
2. Rose Apple (NT$6): The numerous varieties of rose apple grown in Taiwan are mostly red. The fruit is conical, oblong or discoid in shape. Its surfaces are ribbed, and its crisp, juicy, non-acerbic flesh is highly sweet.
3. Banana (NT$8): Long and ridged, banana has yellow skins and white, fine and creamy flesh that is fragrant and sweet with a distinctive flavor.
4. Pomelo (NT$28): Pomelo, pear shaped or obovate, is a citrus fruit closely related to grapefruit. It features pale yellow-green skin and visible oil glands. There is a white spongy structure between the fruit's skin and flesh. The flesh is soft and juicy and tastes sweet.
The stamps are designed by Mr. Tseng Kai-chih, and printed by Central Engraving and Printing Plant in color offset. By-issues including a first-day cover, a folder without crystal mounts and a pre-cancelled FDC with a NT$3-denominated stamp will go on sale on August 18, 2017. Another type of first day cover, a folder with crystal mounts and a loose-leaf album page will go on sale on September 18, 2017. A pre-cancelled FDC with a NT$6-denominated, a NT$8-denominated and a NT$28-denominated stamps together will go on sale on September 20, 2017.