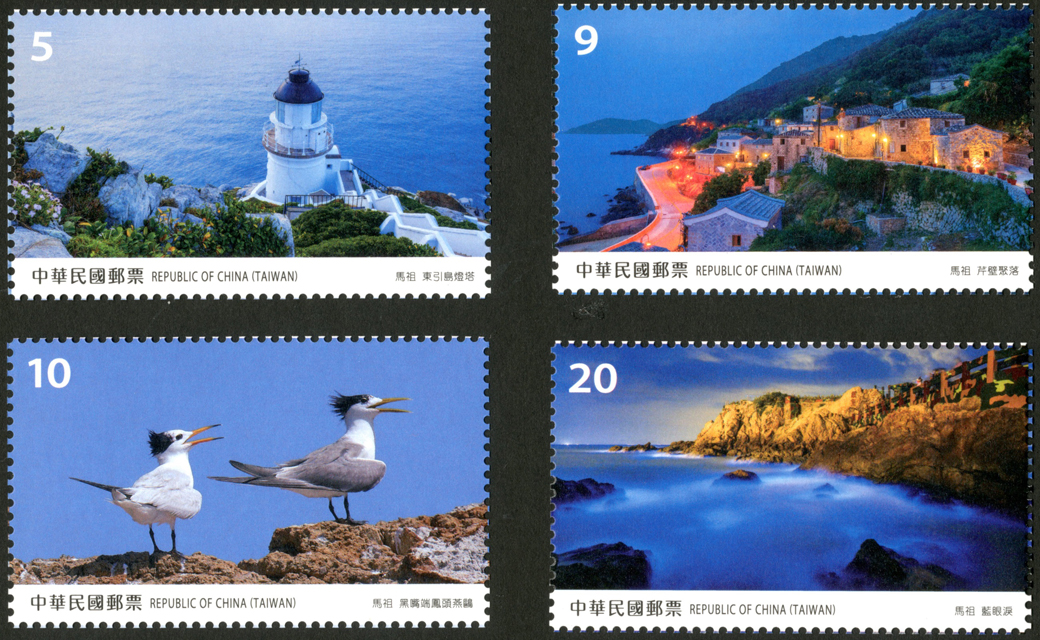 Following the stamps featuring Taitung County and Tainan City of 2016 and 2017 respectively, Chunghwa Post is now adding Matsu to the series: Taiwan Scenery. Depicting scenic and ecological themes, the new set of 4 stamps will be issued on August 9, 2017. The designs are as follows:
1. Tungyin Tao Lighthouse (NT$5). The lighthouse was erected in 1904 on a ridge jutting into the sea on Dongyin Island (Tungyin Tao) in the Matsu archipelago. It is the northernmost national-level historic site. The white tower standing tall on the cliffs, which fall in a sheer drop to the deep-blue sea beneath, is a breath-taking sight.
2. Qinbi Village (NT$9). Located on the NW coast of Beigan Island, this is the best preserved traditional stone village in Matsu. It faces the sea with the hills behind it. The walls of the houses are made of local stone. From a distance it looks like a stone castle above the sea.
3. Chinese Crested Tern (NT$10). The rare Chinese Crested Tern was rediscovered in Matsu in recent years. Its punkish black crest and black-tipped yellow bill are distinctive. Long thought extinct its miraculous re-emergence accounts for its title as a legendary bird.
4. Blue Tears (NT$20). In late spring, early summer the sea in Matsu glows blue at night, thanks in part to the glimmering light of the organism, sea tinkle.
This set is designed by Delta Design Corporation and printed in color offset by Southern Colour Print Ltd. (New Zealand). By-issues including a first day cover, folders with and without crystal mounts and a loose-leaf album page will go on sale on August 7, 2017. A pre-cancelled first day cover with a NT$-denominated stamp and a full set of stamps will go on sale on August 9, 2017, the stamps' date of issuance.