Chinese Classic Novel "Red Chamber Dream" Postage Stamps (Issue of 2017)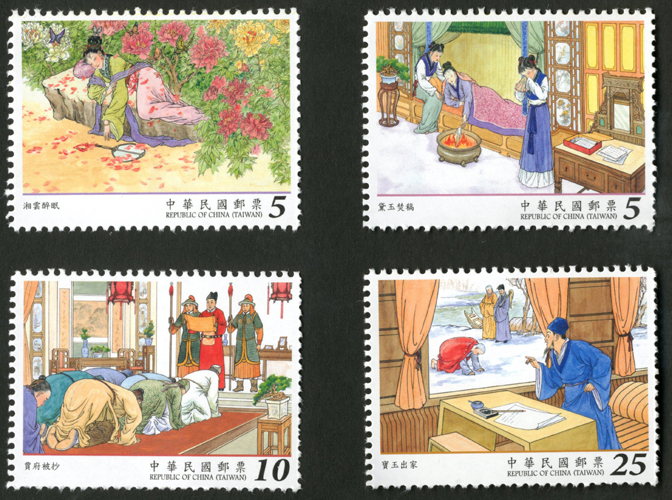 Chunghwa Post issued Red Chamber Dream releases in 2014, 2015 and 2016, and now it is following up with another set of four stamps on themes taken from the book: "Xiangyun Sleeps in Inebriation," "Daiyu Burns Manuscripts," "Jia Mansion Ransacked," and "Baoyu Becomes a Monk." The stamps will be released on June 29, 2017. Descriptions of the designs follow:
1. Xiangyun Sleeps in Inebriation (NT$5): Shi Xiangyun is a cheery and outgoing character. One day, she joins the girls for a birthday celebration for Baoyu and Ping'er and makes merriment. The revelers split up after the party, but Xiangyun is nowhere to be seen. When she is at last found, she is slumping across a stone bench in an inebriated sleep, with her peony petals wrapped in her silk handkerchief as a pillow. Petals cover her body, face, and clothes in a fragrant mess. Her fan is also half-buried in the flowers as honeybees and butterflies buzz about her, a picture of mirth and joviality.
2. Daiyu Burns Manuscripts (NT$5): Daiyu becomes bedridden when she learns of the upcoming nuptials of Baoyu and Baochai. The Jia family is too occupied with wedding preparation to take notice, and Daiyu is cared for by her two loyal maids, Zijuan and Xueyan. In despair, Daiyu decides to burn all her literary works and a handkerchief inscribed with a poem by Baoyu. This offering has been an anchorage of Daiyu's life and love, and in burning it, she puts closure on her lovesickness. Gulping for her last breath, Daiyu instructs Xueyan to start a fire and burn all the manuscripts and handkerchief.
3. Jia Mansion Ransacked (NT$10): Jia Zheng returns home from his official assignment and while entertaining his guests, the Prince of Xiping appears with the Emperor's decree, with Imperial Guard Zhao in tow to search the property, pronouncing that Jia She has allegedly been colluding with provincial officials and abusing his power to molest the underprivileged. Thanks to covert protection from the Prince of Xiping, and the timely arrival of the Prince of Beijing to proclaim a decree, only Jia She's property is searched. Shortly after, Jia She is granted leniency, and Jia family's property is returned to Jia Zheng. The Jia Mansion continues to stay in the Emperor's good graces. Nonetheless, the raid is symbolic of the family's declining fortunes.
4. Baoyu Becomes a Monk (NT$25): Jia Zheng transports the coffin of Grandmother Jia back to Jinling for a proper burial. On his way back to the capital, Jia Zheng pens a letter home on the boat, and as he looks up, he sees a figure with a shaved head and bare feet, draped in a red felt cape, about to make a bow. Jia Zheng hurries out of the boat, and identifies the figure as Baoyu. A Buddhist monk and a Taoist priest sandwich Baoyu and the trio leaves by shore. The encounter concludes the story as such: "those who see through the world of mortals enter the monastery; those who are obsessed lose their lives in vain. A forest is empty of birds when food is depleted, and the earth is covered in snow, so clear!"
This set of stamps, planned by Dr. Wu Hung-i, professor from the Department of Chinese Literature, National Taiwan University; is painted by Shen Cheen, Associate Professor from the Department of Art and Design, Yuan Ze University and printed by Southern Colour Print Ltd. (New Zealand) in color offset. By-issues including a first-day cover, folders with and without crystal mounts and a loose-leaf album page will be released along with the stamps and will go on sale on June 27, 2017. A pre-cancelled FDC with the full set of stamps or with a NT$5-denominated stamp will go on sale on June 29, 2017, the stamps' date of issuance.